The OptiLogix HyperPCI OEM Voice Recording boards provide powerful features for building advanced Call Recorders.
PCI VOICE RECORDING CARD
Each card only occupies a single standard 5V PCI slot and combines a compact form factor with very low power consumption resulting in unmatched reliability. On-board DSP's and large streaming buffers impose very little demand on system and application resources.

D-channel signalling supports Call Setup, Connect, Clear, DDI number and CLI number decoding. Supports all major ISDN variants, Q.SIG, DASS-2 and DPNSS. Simultaneous recording on all channels of both upstream and downstream sides of a conversation or optionally recording the audio streams seperately (stereo).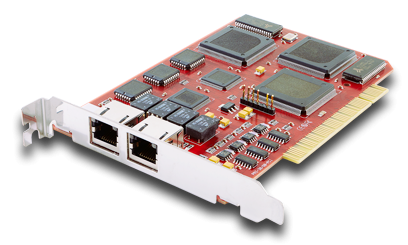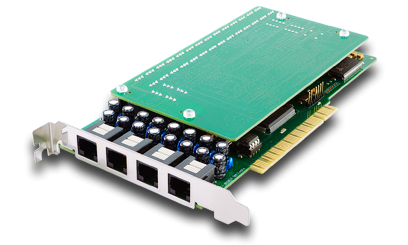 RECOMMENDED FOR:
Medium and high density Call Recording systems.
4U / 5U 19" server racks with standard 5V PCI slots.
Mixed telecom interface configurations (analog, digital extensions, ISDN trunk lines).
16 channel Analog:
HP-HS-16

16 channel So bus (ISDN-2):
HP-IS-16

23 channel PRI / T1:
HP-T1-23

60 channel PRI / E1:
HP-PRI-60
Mechanical characteristics:
Half length standard 5V PCI card
Operating temperature:
0 ºC to +60 ºC
Humidity:
5% to 80% non-condensing
Maximum power requirements:
+5Vdc (400 mA), +12Vdc (50 mA), -12Vdc (50 mA)
Operating systems supported:
All 32-bit and 64-bit Windows Operating Systems
Boards per system:
Mix of 12 boards or 720 ports total
Primary Rate interface:
E1 (2.048Mbit/s), T1 (1.544Mbit/s)
AC impedance:
1100 Ω
Maximum tap length:
10 m (unterminated), 100 m (terminated)
Protocols:
All major ISDN variants, Q.SIG, DASS-2 and DPNSS
Basic Rate interface:
4 wire So bus
AC impedance:
Line Matched
Maximum tap length:
500 m
Protocols:
Euro-ISDN
Digital handset interface:
2 wire bus
AC impedance:
Line Matched
Maximum tap length:
500 m
Protocols:
All major PBX supported (DigitalVox triggering)
Analog handset / trunk interface:
2 wire voltage start or line level audio triggering (Vox)
DC/AC impedance:
Infinite / 3000 Ω
Maximum tap length:
5000 m
Signalling:
Ring detection, loop current or voltage detection, DTMF detection for dialled numbers, FSK Caller ID detection, voice activity detection
Voice and Silence detection:
Programmable from OptiLogix API
Upstream and downstream audio gain:
Programmable from OptiLogix API
Frequency response:
300-3400Hz (all compression modes)
Speech encoding/compression:
64kbit/s A-law (G.711), 36kbit/s proprietary encoding
Safety and EMI Certifications
Safety, emissions, immunity:
EN 60950, EN 55022, EN 55024
Compliance:
CE, FCC and RoHS 3

MTBF:
600.000 hours
Warranty:
2 years