The OptiLogix HyperPacket OEM Voice Packetizer provides powerful features for building advanced Call Recorders.
NETWORK VOICE STREAMER (PACKETIZER)
Each unit combines a compact form factor with very low power consumption resulting in unmatched reliability. Embedded DSP's for D-channel decoding, voice processing and IP packet streaming.

D-channel signalling supports Call Setup, Connect, Clear, DDI number and CLI number decoding. Supports all major ISDN variants, Q.SIG, DASS-2 and DPNSS.

Highly secure encrypted IP streaming of the mixed upstream and downstream sides of a conversation (optionally seperate audio streaming for stereo recording).
Generic IP stream format (the OptiLogix HyperStream open format) firmware's available for using HyperPacket devices with your own Windows or Linux VoIP recording software.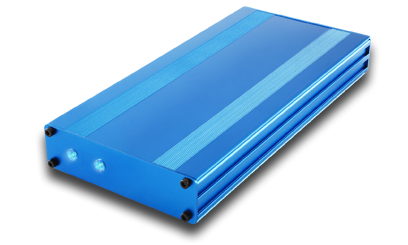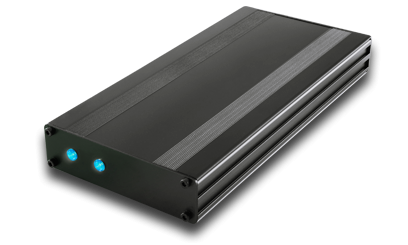 RECOMMENDED FOR:
Virtual Machine environments.
Small, medium and large enterprise Call Recorders.
Distributed and multi-site architectures.
Real-time Speech Analytics systems.
16 channel Analog:
IP-HS-16
16 channel Digital / So bus (ISDN-2):
IP-DX-16
30 channel PRI / E1:
IP-PRI-30
46 channel dual T1:
IP-T1-46
Mechanical characteristics:
Compact aluminium box with external power supply adaptor
Operating temperature:
0 ºC to +60 ºC
Humidity:
5% to 80% non-condensing
Maximum power requirements:
Mains adaptor: +12Vdc (500 mA)
Operating systems supported:
All 32-bit and 64-bit Windows Operating Systems
Devices per system:
Virtually unlimited, 1000+ ports in total
Primary Rate interface:
E1 (2.048Mbit/s), T1 (1.544Mbit/s)
AC impedance:
1100 Ω
Maximum tap length:
10 m (unterminated), 100 m (terminated)
Protocols:
All major ISDN variants, Q.SIG, DASS-2 and DPNSS
Basic Rate interface:
4 wire So bus
AC impedance:
Line Matched
Maximum tap length:
500 m
Protocols:
Euro-ISDN
Digital handset interface:
2 wire bus AC impedance: Line Matched
Maximum tap length:
500 m
Protocols:
All major PBX supported (DigitalVox triggering)
Analog handset / trunk interface:
2 wire voltage start or line level audio triggering (Vox)
DC/AC impedance:
Infinite / 3000 Ω
Maximum tap length:
5000 m
Signalling:
Ring detection, voltage detection, DTMF detection for dialled numbers, FSK Caller ID detection, voice activity detection
Voice and Silence detection:
Programmable via TCP/IP
Upstream and downstream audio gain:
Programmable via TCP/IP
Frequency response:
300-3400Hz (all compression modes)
Speech encoding/compression:
64kbit/s A-law (G.711), 36kbit/s proprietary encoding
Safety and EMI Certifications
Safety, emissions, immunity:
EN 60950, EN 55022, EN 55024
Compliance:
CE, FCC and RoHS 3

MTBF:
600.000 hours
Warranty:
2 years